With February 14th around the corner, it's only reasonable for everyone out there with a sweetheart to be thinking about what they might like to get for their partner.
Well, in this article we're going to run through some great Valentine's day gifts that will woo your partner all the more, in the spirit of the season.
Valentine's day gifts
Valentine's day gifts don't have to be large and flashy, and that's something that we want to make sure that every single person reading this article understands - the largest, flashiest present in the world won't make a great valentine's present unless it also has sentimental value.
For instance, spending a pound or two on a few sachets of hot chocolate so that the two of you can have an intimate, personal evening watching cute movies will mean more than spending a thousand pounds on a brand-new piece of clothing.
With Valentine's day gifts, it's utterly true that the thought counts more than the gift itself. You can always find a great gift, no matter your price range.
Valentine's gifts
For great Valentine's gifts, we would always recommend starting off by thinking about any hobbies that your Valentine might have.
To be sure that you're getting something in the right wheelhouse, take a few moments and start thinking about what they like.
If your loved one is a bookworm, then perhaps you could track down a bookmark or a booklight for them.
To make it a little more romantic, you might seek out a heart-shaped bookmark, or, perhaps, one that could be personalised.
Alternatively, if the better half of married couples love to bake, a heart-shaped baking tin could be a great choice. All the better, you could use it to make them a heart-shaped cake just in time for Valentine's day.
Valentine's day present
Cheap Valentine's day gifts are often something that you might struggle to track down, for the same reason that very few people have cheap weddings. Companies are happy to charge a little more for the festive mood that you're in.
Thankfully, it doesn't have to be that way.
Great Valentine's gifts can be simple and affordable, including a small set of essential oils or instant cocktail cubes for the adventurous bartender of the pairing.
There is a wide range of uncommon goods out there on the market every single Valentine's day, and taking a moment in advance is the perfect time to consider what the best option is for you and your partner.
A great gift may also be something that seems a little silly. We're sure that every single couple under the sun has the same thought when they think back upon their best dates - while there are many that are romantic and passionate, some of the great ones are silly and funny.
To bring that to your partner in the form of a gift, why not consider silly date ideas near you? There is always a crazy golf course near you, with a day trip there being a small gift that pays for itself in laughter.
If you're a little more outgoing, a dance class is always a funny and bizarre gift to receive. Sign yourself and your partner up for a tango or a rumba class as a gift, and feel driven into the passion and connection of great dance.
Alternatively, you might trip over each other the whole time, and collapse in fits of giggles.
The point that we're trying to make is that a great gift is one that you truly want your partner to enjoy. If you buy a gift with that in mind, it's sure that they'll understand that. Tracking down the ultimate gift is sometimes much simpler than you might think.
What are some of the best options under £25?
Just below, we're written out three of the best options that we've spotted online for less than £25. They're all wonderful options, and they can truly make for a cute gift that will elevate the season a little for you and your loved one.
Personalised Mug
Hopefully, we aren't getting too personal here, but who doesn't love a good mug? At holiday times, too, you can be sure that there is a different holiday-specific gift range out there for you.
Have a little fun, and look through online marketplaces like Etsy to see what some creative minds have concocted as wonderful Valentine's gifts.
We love seeing personalised mugs over the Valentine's day period since they make such personal gifts, as well as ones that can be regularly reused and bought to the fore to share a little smile here and there.
For instance, on the day immediately following Valentine's day, wouldn't it be wonderfully cute to bring your loved one their morning brew in their new mug?
It's only a small gesture, of course, but it's a warm and kind gesture that would be ideal for your loved one at this time of year.
Sweet Bouquets
Sweet bouquets are something that we haven't seen too much of before now, but we absolutely adore the idea for a spouse or partner with a sweet tooth.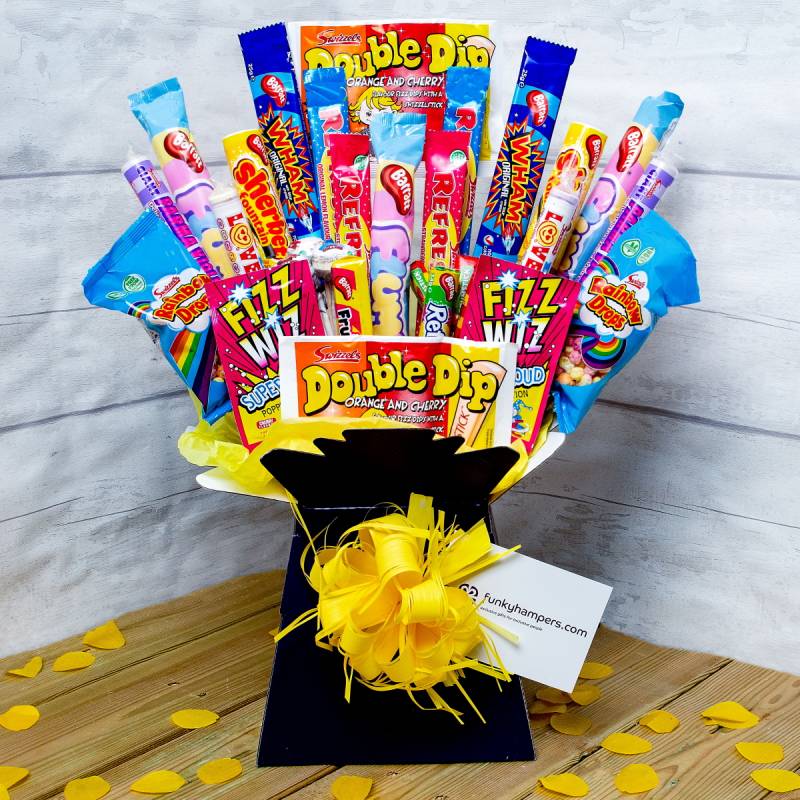 It feels like everyone on Valentine's day wants to get their partner some level of either flowers or chocolate.
While that's all well and good, there is certainly a little something else that you might consider - how about combining the two into a majestic treat?
A great sweet bouquet can balance the idea of it being a pretty and visually enticing gift with it being one chock full of fantastic items that the recipient will adore.
This is certainly up there for the spot of 'best gift' possible to get for Valentine's day.
Something that we adore about the best sweet bouquets out there is the fact that you can alter what's within the bouquet itself a little if you'd like. While there will always be a few pre-selected suggestions, there is also the chance to change what's up for grabs, and pick out your partner's favourite sweets and chocolate.
Finally, we want to mention the options within the world of sweet bouquets that are offered along with silk roses. While it might seem like a small touch, it's just the kind of boosting element that will help to remind your partner how much you think of them.
When you consider that you can get a wide variety of sweets in a budget parcel, you start to understand how much of a treat this might be to receive! Relaxing with your partner on an impromptu date night while you both pick through the retro sweet bouquet is something intimate, indulgent, and (if you'll forgive the pun) wonderfully sweet.
Date Idea Poster
This is the last great idea that we've seen online for budget Valentine's gifts - some form of poster or book that contains a number of different date ideas.
If you've sometimes found that you're doing the same dates over and over again, a date print could help you to mix things up! Treat the two of you to a range of different date ideas with a gift that continues to boost your relationship well after you've given it.
One downside of a number of Valentine's gifts is that they're commonly just something that's given on Valentine's day and forgotten about shortly thereafter. Naturally, this isn't ideal - it brings a bit too much attention to the gift, and perhaps not quite enough to the thing at the heart of the matter - your love for one another.
Giving your partner Valentine's gifts that are, in a sense, slow-release, will allow them to totally understand and absorb the thought that you put into your relationship. A simple gift of a date idea poster will bring the two of you together effortlessly. What's not to love?
As a final point on date idea posters as gifts, we want to suggest you track one down that can be personalised a little. A personalised option can be altered to accommodate things that you and your partner might not want to do. For instance, if going to see a range of sports live would bore you to tears, then you might like to steer clear of a sport-focused poster.
We hope you've enjoyed this short article about a range of simple gifts that can boost Valentine's day for you and your partner. Whether you opt for a small, funny, gift or a large, complex one, we're sure your partner won't mind. Instead, what matters is that your heart is in it!