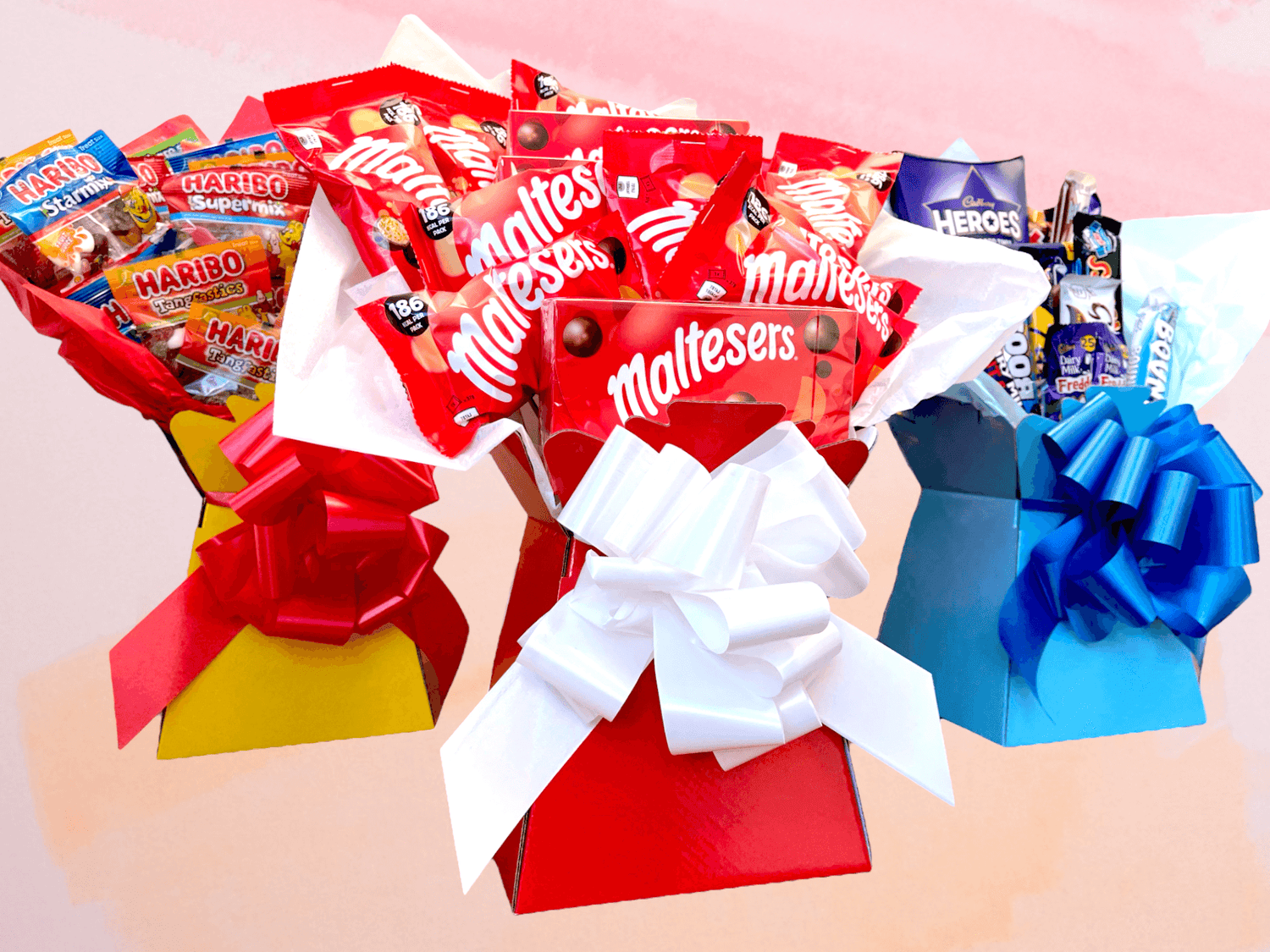 Sweet Bouquets & Chocolate Bouquets
Welcome to The Sweet Bouquet Emporium, the one stop shop for delectable sweet bouquets and chocolate bouquets.
Shop all
Best Selling Bouquets
A few of our best selling sweet bouquets and chocoalte bouquets!
The Bouquet Experts!
Do away with the traditional box of chocolates, bouquet of flowers or selection of sweets and give a gift which truly has the wow factor! If you're looking for some gift ideas for someone with a sweet tooth, our collection of sweetie bouquets, chocolate bouquets and other yummy gifts could be the perfect option for you.
Offering a wide range of different styles and featuring a mix of some of our favourite chocolate bars and sweet brands, each beautiful bouquet is crafted by hand right here in the UK by our team of experts. Whether you're opting for a sweet bouquet or a chocolate bouquet, you can be rest assured that the delivery will put a smile on the recipients face! After all, you can't go wrong with a sweet surprise!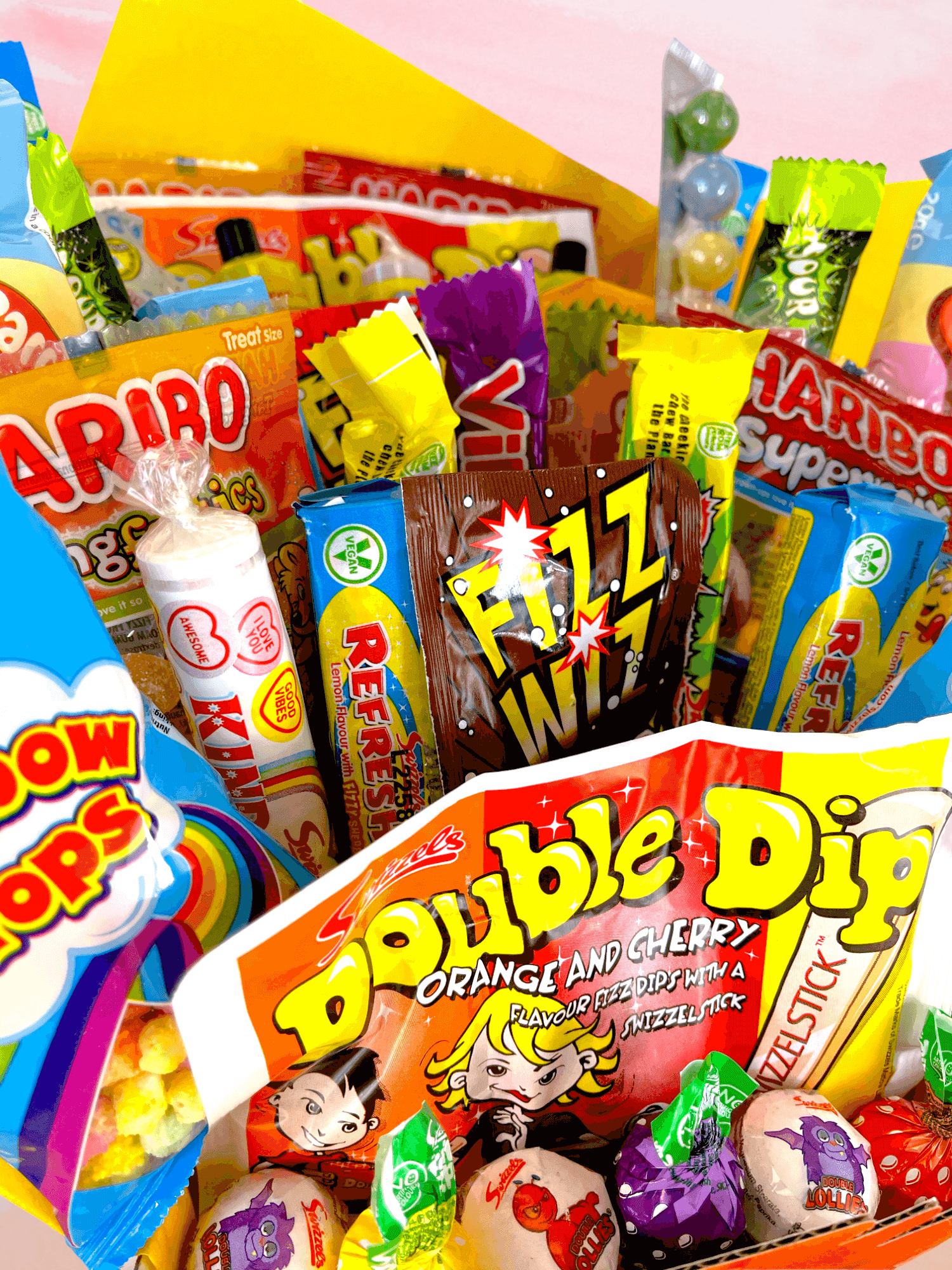 About Us
We're a family run business with a passion for all things sweet and chocolate! From sourcing the highest quality chocolates for our chocolate bouquets, through to discovering retro favourites for our sweet bouquets, our team loves getting creative and crafting the ideal gift for anyone with a sweet tooth. Plus we're committed to ensuring that our gift bouquets always arrive at their destination in perfect condition.
Why choose a sweet or chocolate bouquet?
Let's face it, when its a special occasion such as a birthday party, Christmas, weddings, anniversaries or Valentines Day, chocolate and sweets often make the perfect gift idea. However, what if you could make the gift that little bit more unique?
When you think of a bouquet, a bouquet of flowers probably comes to mind. But think again...
A beautiful bouquet of chocolates or sweets is a gift which certainly makes a statement. The perfect way to show someone that you care, gifts from our online shop are luxuriously presented and carefully packaged before being put in the post to ensure that they arrive and are delivered across the UK in tip top condition.
All of the chocolate bouquets and other bouquet gifts on our website have been created by hand and carefully designed to include a mix of sweets and chocolates which are sure to delight all ages.
Over the years our range has grown to include an incredible variety of different chocolate and sweet bouquets. We've listened to our customers to expand our offering and develop gifts which certainly have the wow-factor, whatever the occasion.
From big named brands such as Cadburys, through to unique artisan sweets, you won't find a more eclectic mix of gift bouquets anywhere else in the UK - something we're super proud of! From a chocolate bouquet for a kids birthday party, through to chocolate bouquets for work colleagues, we have any requirement covered.
All Sweet & Chocolate Bouquets
Make it personal
Not only are our bouquets the perfect gift idea, you can also make any gift in our range personalised by including a bespoke gift message within every delivery. Once you have chosen what sweets you want to order, simply select a gift card from one of our range of beautifully designed cards, type your message, and your words will be delivered with the bouquet to create an even more special gift for the recipient. Make sure you check out our personalisation option when you add your bouquet to your shopping basket before checkout.
Corporate orders
If you're looking for something a little unusual for your corporate gifting requirements, a sweet or chocolate bouquet could be the ideal gift. Chocolates always go down a treat so if you're looking to thank employees for their hard work, or send a gift to your clients over the festive period, why not consider a chocolate bouquet?
Delivering right across the UK, whether your business needs a chocolate gift sent to Land's End or Dunnet Head, we've got you covered.
All of our corporate bouquets also benefit from a unique gift card included which will be branded using a specific logo. We will also include a message on the bouquet free of charge, so you can send a personal note to your staff, clients or suppliers.
Our commitment to customer service
Ensuring outstanding customer service, along with perfect products, is something we are passionate about. As a result, we take time to ensure that all of our gifts and bouquets arrive with the recipient in perfect condition. Our delivery service includes next day delivery and we ship our gifts, chocolate bouquets, sweetie bouquets and other gift products across the whole of the UK.